About this Project
To compete successfully in the digital age, companies must be able to shape and leverage an increasingly complex network of internal and external stakeholders, which constitutes their "business ecosystem". Ecosystems help organizations access critical capabilities that would have otherwise been unavailable or difficult to obtain. At the same time, they create opportunities to enter new markets, and to develop products and services that result from different combinations of capabilities, assets, and organizations.
Leading and managing the complex networks that constitute a company's business ecosystem has become a critical capability to compete successfully in the context of digital transformation dynamics, which are disrupting industries and redefining the way business works in the 21st century. Effective business ecosystem engagement requires a different type of strategic and organizational acumen; one that is based on a dynamic system view that overcomes traditional linear thinking and transcends the egocentric perspectives most companies tend to harbor.
To gain insights into how large organizations deal with this leadership challenge, the Drucker School's Center for the Future of Organization (CFFO) conducted a global survey among senior executives that focused on understanding the strategic and organizational capabilities it takes to perform successfully within ecosystem networks. The study also explored existing capability gaps to learn what could be done and what is currently being done to close such gaps.
To get input for the design of the survey — and to discuss and interpret the findings — the CFFO convened an executive advisory board and engaged in a series of in-depth conversations with a cross-functional group of academic thought leaders, business leaders, and consultants.
The survey results reported in this paper are complemented by summary descriptions of twelve key issues related to business ecosystem leadership. The twelve summaries map the agenda for business ecosystem leadership and serve as a qualitative context for the quantitative data.
---
Researcher
Roland Deiser, PhD
Roland is a Senior Drucker Fellow and the Founder of the Center for the Future of Organization (CFFO), an independent think tank at the Drucker School of Management, Claremont University. The CFFO serves as a global hub for applied research and practical discourse on new paradigms of leadership and organization with a special focus on the role of digital technologies as drivers of competitive advantage.
Prior to his engagement with the Drucker School, Roland served for ten years as a Senior Fellow with the Center for the Digital Future at the University of Southern California (USC). He is also the founder and chairman of the Executive Corporate Learning Forum (ECLF), a global network of more than sixty major multinational organizations from fourteen countries that jointly explore how to develop and sustain strategic capabilities in fast-changing environments.
In addition to the CFFO and the ECLF, you can learn more about Roland and his research and publications at his website, https://rolanddeiser.com/.
---
IRC4HR® Project Publications and Learning Materials
White Paper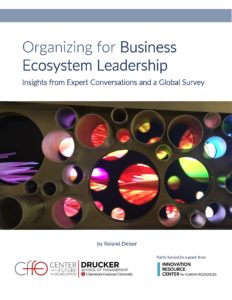 Organizing for Business Ecosystem Leadership
Insights from Expert Conversations and a Global Survey
(40 pages)
IRC4HR® Upcoming Activities
Roland Deiser and the CFFO are planning to develop a detailed capability framework, an assessment tool, and an ongoing dialogue platform for companies interesting in learning more about the results and insights from this study and to measure and further develop their own business ecosystem leadership capabilities. Sign up using the form at right to be notified of next steps and more from IRC4HR.