About this Project
Through conversations with 100 women and men in ten leading organizations, Rob Cross and Jean Singer have gained an unusual level of richness and insight into how people's connections with others create the essential fabric that underpins well-being.
These insights became even more relevant as our interactions shifted to accommodate Covid-19 and as they continue to evolve as we emerge from the pandemic. Maintaining well-being in these times requires us to be all the more deliberate and purposeful about how we connect with others. This careful analysis of how successful people initiate and maintain their critical connections is a valuable and practical guide for anyone who would like to be more intentional about this process.
Every model of well-being includes relationships as a component of what creates a happier person. But in most models, the relationships are separate from the other components rather than considering how relationships drive them. Most models also provide no depth on how people form and maintain these healthy connections, what people get from them, or what happens if they fall out of these connections mid-career as life and family take over. This study places relationships at the center and explores the ways that connections enable or enhance four pillars of well-being:
Sense of purpose
Resilience
Physical health
Personal growth
The study builds on two decades of related research and shows how relationships are an under-valued resource, and how people who intentionally manage connections in certain ways see better results, both in their performance and well-being. Using insights from the interviews, Rob and Jean have identified changes people can make personally, and provided guidance for organizations on the types of support they can provide for employees.
The first two papers, Finding Purpose and Resilience is a Team Sport, include deep insights into the role of relationships in our ability to find purpose and develop resilience, along with practices and frameworks that enable immediate application of the findings. Also included are stories of what others are doing to manage professional and personal life today.
In the third paper, Physical Health is Not a Solo Sport, Rob and his co-authors  show how improving and maintaining physical health also benefits from our relationships.  You will learn about the specific ways that connections with others help to initiate a healthier trajectory, to create "stickiness," so it's not abandoned when work becomes pressing, and importantly, to create benefits of identity, friendship, and belonging that embed new health behaviors in our lives.  Helping you to put the findings into practice, there is also a tool for driving positive health trajectories through relationships.
In the fourth and final paper to emerge from this research, Driving Personal Growth Through Relationships, the authors explain how personal growth also relies on relationships. "While it might seem as though personal growth requires us to sit down and draft a five-year plan, we find that growth trajectories are far from that orderly. More so than planning, personal growth relies on relationships that open our worlds up to new opportunities. As we build relationships characterized by trust and dimensionality, we gain emotional and practical support and the ability to sculpt roles in ways that help us to realize our full potential." Once again, you will find cases studies of individuals who have demonstrated this and activities that will help you to assess your network for relationships that support your personal growth. 
---
Researchers
Rob Cross
Rob is the Edward A. Madden Professor of Global Business at Babson College and Director of the Connected Commons, a consortium of companies dedicated to developing the research, relationships, and resources that enable individuals and organizations to thrive in the Connected Economy. For almost twenty years, Rob's research, teaching, and consulting have focused on applying social network analysis to critical business issues for actionable insights and bottom-line results. He has worked with more than 300 leading organizations (companies, government agencies, and non-profit organizations) on a variety of solutions including innovation, organizational change and alignment, talent optimization, and leadership effectiveness.
To learn more about Rob's research and his network of practitioners that are co-creating new applications of his methods and tools, please visit his website at https://www.robcross.org/ or the website of the Connected Commons at https://connectedcommons.com/.
Jean Singer

Jean Singer, PhD, is an organizational consultant specializing in the use of social network principles and techniques to improve performance. She combines 20+ years of experience in the fields of organizational development and business process improvement with the latest tools of network analysis to help companies build better cross-functional collaborations, influence the adoption of change, enhance process efficiency, and create the diverse knowledge-sharing connections needed to foster innovation. Jean is also a core member of the Connected Commons and a co-editor of The Organization Network Field Book: Best Practices, Techniques and Exercises to Drive Organizational Innovation and Performance.
---
IRC4HR® Project Publications and Learning Materials
White Paper
Finding Purpose
(22 pages)
Resilience is a Team Sport
(24 pages)
Physical Health is Not a Solo Sport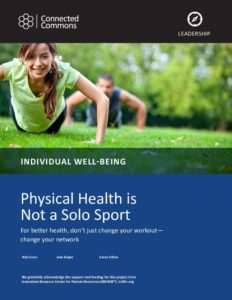 (22 pages)
Driving Personal Growth Through Relationships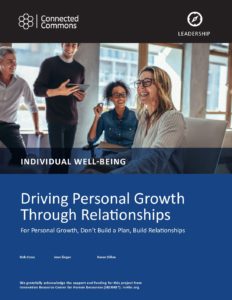 (27 pages)
IRC4HR® Upcoming Webinars
We're planning a future webinar series to share the results and insights from this study; dates to be announced. Sign up using the form at right to be notified of upcoming webinars and more from IRC4HR.