About this Project
Socio-Technical Action Research is an interactive inquiry process that balances design thinking and problem-solving actions. The action research is conducted in a collaborative environment with data-driven analysis to inform future predictions about organizational design and change.
The Digital Organization Design STAR (Socio-Technical Action Research) Lab is a highly structured year-long learning and co-creation experience that allows participants and subject matter experts to collectively explore and prototype practical and innovative responses to digital challenges.  In this project, small teams of high-level representatives from leading organizations came together — with expert practitioners and academics in technology and organization design — to create prototypes of future organization and leadership models that could be tested in practice.
The work design of the lab is based on principles of tacit knowledge, and the tools and processes used for problem solving and sense making in the lab are from design thinking approaches. What makes the lab design unique and powerful is the integration of these two areas of practice. Even the lab space — which includes a theater where participants hear report-outs from "cottages" (small groups of colleagues) on their work product — is physically designed to enable high levels of collaborative problem solving and sense making.
The lab is designed as an information processing engine and supports a highly collaborative, iterative, learning, and solution-generating experience. For more about the lab methodology, please see the attached paper, Socio-Technical Action Research Lab: Design Lab Description and Process.
The outputs from this project include a wide array of materials, from methodology and insights to prototypes and tools for addressing the organization and leadership challenges of digital in your own organization. IRC4HR® is proud to have supported this work and excited to help make these innovative and practical materials available to all practitioners and organizations that can benefit from them.
---
Researchers and Lab Leaders
The STARLab Alliance is an educational not-for-profit dedicated to advancing our collective knowledge and understanding of the impact of digital technology on organization design. It was born from a desire to help organizations cope with the resulting challenges using an action research approach. STARLab Alliance sponsoring partners and leaders include:
Sue Mohrman, Center for Effective Organizations, Marshall School of Business, USC
Bill Pasmore, Center for Creative Leadership
Rick Vanasse, Spring Network
Stu Winby, Spring Network
Chris Worley, Center for Effective Organizations, Marshall School of Business, USC
You can find more information about the STAR Lab Alliance, the project, and opportunities to participate in future STAR Labs here.
---
IRC4HR® Project Publications and Tools
Please take time to explore, download, and make use of the materials that emerged from the collaborative STAR Lab experience and that were authored by the Lab researchers/leaders and participating company co-creators.
White Papers
Fast Scaling: A Practitioner's Guide
Stu Winby (Spring Network); Chris Worley (USC); Sue Mohrman (USC); and Bill Pasmore (CCL)
(14 pages)
Socio-Technical Action Research Lab Description
Stu Winby (Spring Network); Chris Worley (USC); Sue Mohrman (USC); and Bill Pasmore (CCL)
(8 pages)
Digital Socio-Technical Design — STARLab Action Research Workshop
Bill Pasmore (CCL) and Stu Winby (Spring Network)
(53 pages)
Research Papers
Digital Organization Design Challenges: Prototype Solutions and Integration
Chris Worley (USC), Sue Mohrman (USC), Bill Pasmore (CCL), and Stu Winby (Spring Network); and the members of the STARLab Consortium
(19 pages)
Designing from the Future – Building Prototypes for Digitalized Organizations
Sue Mohrman and Chris Worley (University of Southern California); Bill Pasmore (Center for Creative Leadership); and Stu Winby (Spring Network)
(27 pages)
Designing a Digitally Enabled Prototype— a Customer-Centric Design
Sharon Butler (Magellan Health); Caroline Missen (Shell); and Chris Worley (USC)
(9 pages)
Design a Prototype of Digitally Enabled Ecosystem Organization Design
Stacy Conti (Magellan Health); Pankaj Madan (Interglobe); Prateek Sinha (Shell); Kathryn Zarr (BASF); Michael Leckie (Bloomberg); and Sue Mohrman (USC)
(10 pages)
Designing a Digitally Enabled Prototype— Jointly-optimized Social and Technical Work System
Rob de Wit (Shell); Carl Watson (Microsoft); Scott Stussi (BASF); Nitin Sethi (Interglobe); and Bill Pasmore (CCL)
(11 pages)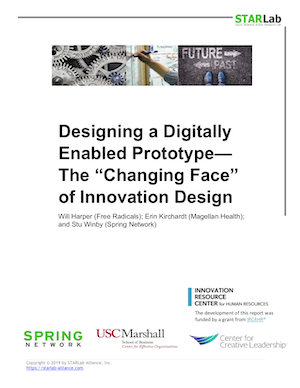 Designing a Digitally Enabled Prototype—The "Changing Face" of Innovation Design
Will Harper (Free Radicals); Erin Kirchardt (Magellan Health); and Stu Winby (Spring Network)
(9 pages)
Tools